Guts & Glory was a recurring title that was taken up and dropped several times in the drafting of what would Worm.[1] Its rotating protagonists and point-of-view characters were Panacea and Glory Girl.[2][3]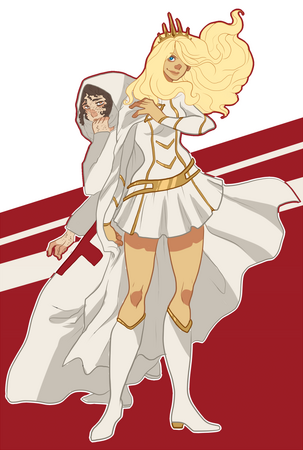 The first draft of Guts & Glory extends from the Brockton Bay Brigade's adoption of Amy Dallon to her trigger event. The second draft of Guts & Glory starts when Amy discovers the identity of her father and begins to break down. The third draft was an attempt to tie these first two drafts together, while Wildbow also attempted a fourth and final draft.[3][4]
Charecters
Edit
Appearing in available draft
Edit
Guts: An early version of Panacea named Annie here. She shares many traits with Taylor like black curly hair, insecurities about her figure, and social anxiety.
Glory: An early version of Glory Girl, still named Victoria. Gregarious, she makes Annie feel welcome when she is adopted.
Brett: An early version of Gallant, implied to have his aura vision. Had the story been pursued, a stronger relationship between him and Annie would have been the focus.
Cole: Like Triumph, the mayor's son.
Not appearing in Available Draft[5]Edit
Guts & Glory was the draft in which the Slaughterhouse Nine and Bonesaw were first conceptualized.[6] [5] They would gain their final names later.
Many characters' civilian and cape names differ between Guts & Glory and the final draft of Worm.

Panacea is named Annie rather than Amy, Triumph is named Cole rather than Rory, Gallant is named Brett rather than Dean, and Flashbang is named Nick rather than Mark, while Brandish's cape name is Arc, and Manpower's cape name is Mantower.[3]
In a draft of Guts & Glory, Crawler was named "Troll", Shatterbird "Breaker", and Bonesaw "The Maiden."[7]
References
Edit
Ad blocker interference detected!
Wikia is a free-to-use site that makes money from advertising. We have a modified experience for viewers using ad blockers

Wikia is not accessible if you've made further modifications. Remove the custom ad blocker rule(s) and the page will load as expected.